Magnetic Head Pulleys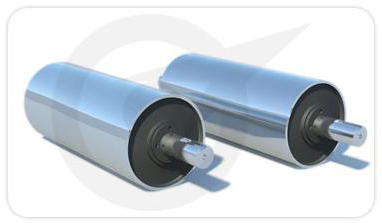 As Magnetic Pulley Manufacturers and exporters, our aim is to provide the highest quality magnetic head pulleys while remaining the most reliable suppliers globally. Our range of magnetic pulleys extends from permanent magnetic pulleys to Electromagnetic pulley sand Permanent Pulleys, including Rollers for Conveyors. The Magnetic Head Pulley provides efficient ways in removing ferrous contaminants from powdery, Granulates materials like ore, coal, waste, sand etc. The Magnetic Head Pulley is comprised of a 360 degree magnetic core protected by a rotatable stainless steel cover and an axis of rotation. Surface of the Pulley will be wrapped by belt in order for the materials to flow over it. Ferrous contaminants are attracted at the belt through the magnetic field while the material is conveyed. It's possible to replace an existing head pulley with a permanent magnetic head pulley, on a size-for-size basis. A wide range of diameters, widths, and shaft sizes are available for magnetic head pulleys. Magnetic Pulley contains three types of strength Light duty, Medium duty and heavy duty magnetic head pulleys
DESIGN ADVANTAGE:
STAR TRACE Magnetic head pulleys are built using our exclusive flux control magnetic circuit. This design ensures continuous magnetism around the entire circumference of the pulley-no dead spots. For less critical applications, a conventional magnetic circuit design is also offered.
TYPES OF STRENGTH:
Light duty - For general use with burden depths up to 50mm. Belt speeds to 1.8m/s. Good for secondary Clean up of misc. tramp iron and fines.
Medium Duty - For general use with burden depths up to 75mm. Belt speeds to 2m/s. Used in Construction & Demolition and Material Recovery Facility.
Heavy Duty - For general use with burden depths up to 100mm. Belt speed to 2m/s. Used in Mining, Foundry, and Heavy Duty.
Applications for Magnetic Head Pulleys
Magnetic Pulleys are usually used in:
Filtration of mineral ores.
Concentration of mineral ores.
Chemicals.
Granular.
Food.
Removing tramp iron from belt conveyor.
Coal.
Waste recovery.
Grain.
Wood waste recovery.
Glass recycling.
Tyre recycling.
Mining.
Plastic recycling.
Features of Permanent Magnet Roller Pulleys For Sale
The following are the features of Permanent Magnet Roller Pulleys For Sale:
Easily installed in belt conveyor.
Magnetic pulleys made up of powerful rare earth magnets.
Self-cleaning action.
Continuous, permanent and power free.
Super-tough, trouble free operation.
Maximum power and separation.
High Standard stainless steel shell.
Fine construction.
Efficient, cost-saving recovery of harmful tramp metal.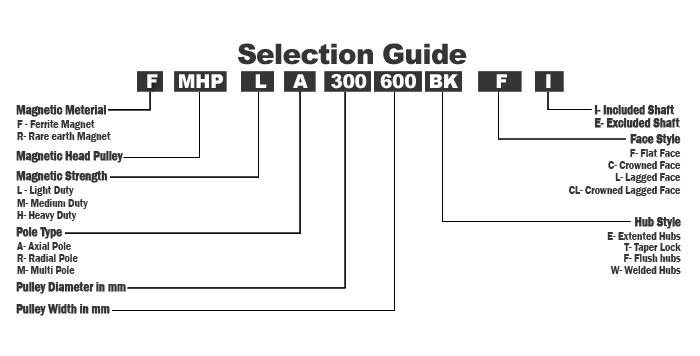 Benefits of Magnetic Pulley For Belt Conveyor
Magnetic Pulleys Widely used for iron separation in cement, mining, chemicals, steel, waste disposal, refractories and other industries.
High purification result in particle, powder, ferrous recycle & massive material.
Save damage and abrasion in grinders and crusher.
High suction power.
No Energy loss.
Work Continuously .
Simple Operation.
High Magnetic Field intensity.
magnetic pulley manufacturer
used magnetic pulley
magnetic drive pulley
magnetic pulley specification
magnetic pulley design
magnetic drum pulley
magnetic pulley gauss
magnetic pulley separator
permanent magnetic pulley
stearns magnetic pulley
12 volt magnetic clutch pulley
magnetic pulley manufacturer india
binder magnetic pulley
magnetic pulley for belt conveyor
magnetic head pulley conveyor
magnetic pulley belt conveyor
magnetic pulley system
magnetic head pulley conveyor for sale
used magnetic head pulley
magnetic pulley description
magnetic tail pulley
magnetic laser pulley alignment tool
supercharger magnetic clutch pulley
magnetic head pulley
magnetic head pulley video
magnetic head pulley price
magnetic head pulley for sale
magnetic pulley clutch
magnetic pulley
magnetic pulley for sale
used magnetic head pulley for sale
magnetic head pulley sale
magnetic pulley wikipedia
magnetic pulley conveyor
permanent magnetic head pulley